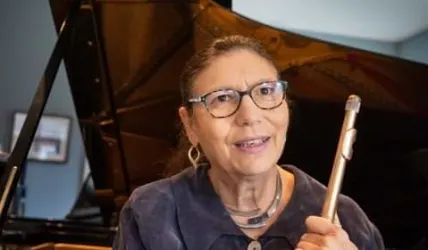 Music and Performances
Do you want your guests yelling across the tables in order to be heard over loud amplified music? I am a flutist who is sensitive to this concern.
My colleagues are the area's finest musicians, and I have performed with them for many years. I can offer music for flute alone, or in ensemble with strings (violin, viola, cello), harp, guitar/lute, keyboard, and/or vocalist. Our repertoire ranges from renaissance, baroque, and classical to ragtime and popular.
We're available for (and have played at) nearly any type of event you can imagine, including:
Wedding ceremonies
Rehearsal dinners
Cocktail/Social hours
Receptions
Business luncheons
Open houses
Gallery openings
Anniversary or birthday parties
Concerts
Educational recitals
And more. Contact me, and we will discuss your special event!
Many thanks to Michael Nix at Nixworks for the recording and CD mastering!
Have a question? Please feel free to contact me.