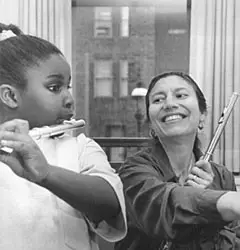 Lessons
Music is an integral part of my life. I don't remember when or if I chose it to be that way. Like speaking, it has always been there. I believe this is true for all my students...all the people who come to me for flute lessons...it is fantastic.
Consciously picking the moment to begin formal studies varies. My job as a music instructor is to keep the excitement of that first lesson throughout the beginning years when tone production, note and rhythm recognition and articulation can be quite challenging and at times frustrating. My teaching methods aim to stimulate, inspire, and motivate while promoting patience and respect for oneself and the music we love.
For the past forty years, I've been teaching flute to students of all skill levels and ages. I have taught at Smith College, Westfield State College, and Holyoke Community College. Currently I teach at the Smith College Campus School, the Northampton Community Music Center, and offer private lessons at studios that I maintain in Northampton and Amherst, Massachusetts.
Have a question? Please feel free to contact me.